Cam'ra's on, SUTS heads for the door, opens it, waits for a second. Enters a big chunk of meat. Joking. Big chunky man. Joking. Big man. He's wearing all black: black sweater, a pair of sporty black pants with suspenders and black shoes. He looks like a carpenter (bee? haha), a person in charge of installing stages maybe?
Big chunky man makes his way into the room, SUTS forgotten at the door. The first carries a big black plastic bag. He crosses in front of the camera, stops for a little, to show it to us (mean, just mean using ambiguity to make me think he has dead kitties in the bag), then shoves it on the bed and starts pulling things out from it. A white shirt appears in the left corner of the images.
Seconds and many editing cuts later, Visitor 3 makes his leave, as grumpy as he's entered, and SUTS goes to check the things left on his bed.
As expected, on SUTS' bed there's a white shirt, a suit/tux, a black scarf,  a tie, socks, a bag which probably contains a pair of shoes and a black overall (typical for a Swedish man, we've seen it so many times in the airport video).
On a symbolical note, Visitor 3 gave our hero the tools he needs to use on whatever challenges his journey has ahead for him.
Now where is SUTS going? It appears he's attending a fancy dinner that implies dancing. By the looks of Y and the wedding rings and references in 20101104, it looks like he's going to a wedding.
Right. Now, the fact that he's been thought how to dance the Blue Danube waltz tells us that he's going to be in the presence of royalty. Sure, we can think of two royal people: MO and CU.
And what would SUTS' role be at this 'wedding'? A witness? A priest? A… groom?
One very interesting piece of information BeorcRadNyd came with right after this video was posted is this:
hey people…long time lurker, first time poster. the latest video (101114) reminds me of the video that was linked to with Y- the groom talks about how he was just a commoner, but when he fell in love with the princess (the bride) he learned how to act like a noble to impress her parents. maybe that's a clue to what's going on? he is taught by his visitor how to bow and dance properly…
It pays off to be a Swede and understand the language, aye? Thank you very much for the info

Veeery interesting! Is SUTS`ready to become a King himself, via marriage to new MO, now that CU is dead?
Is this the way to symbolically marry the new artistic product with its receiver?
Now a few things about this… let's call it event we are all going to probably/hopefully witness on the 16th. Everybody is expecting a concert, I must admit I do too, I mean it sounds great, right? However, that message on towhomitmayconcern.cc could also mean something else: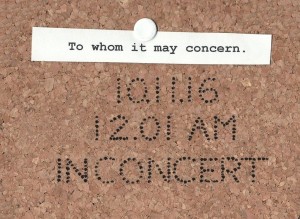 I2.0I AM IN CONCERT could also mean something close to "gather here at this certain hour so we could all be in agreement with something"
Because, according to thefreedictionary and thesaurus:
concert = Unity achieved by mutual communication of views, ideas, and opinions: acted in concert on the issue; to act together in harmony; to synchronize.
If we think of a combination, it's probably be about all concerned receivers getting married to their artistic product, LOL!!! Not just SUTS. Are we going to be put in front of making a choice?
No, seriously, this might turn in NOT being a concert in the proper meaning of the word. Even though, if you think of it, iamamiwhoami have always taken their fans' thoughts and desires into consideration. It's going to be hard if there's no performance, haha!
I wonder what that TALK is going to be about. And whether it's going to be just SUTS talking or him talking to someone else, the second implying also the presence of one or more visitors.